Worship is a huge part of the human condition. We prioritize many things in our lives and value things above others. What do you value? God desires us to honor Him above all others. We, at ISFBC, seek to bring honor and glory to the Lord. Would you join us this Sunday as we seek to come close to HIM!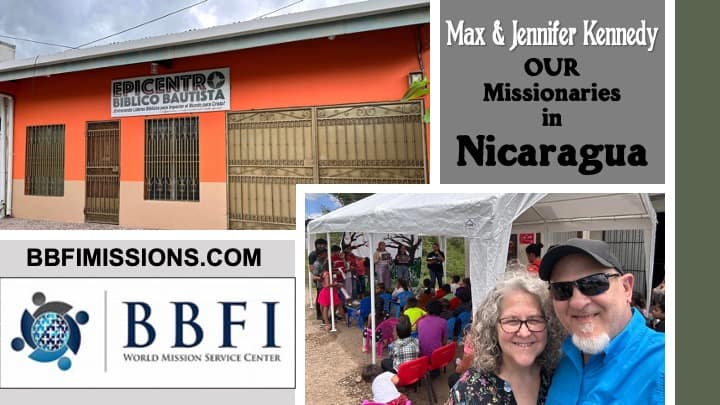 Max and Jennifer Kennedy were approved as missionaries to Nicaragua in May 2014. Max and Jennifer met each other at Liberty University and both graduated in 1991 from Baptist Bible College, Springfield, MO. They served their internship at Park Lake Baptist Church in Sachse, TX as senior pastor and wife. Their sending church is Central Baptist Church in Tyler, TX. Max and Jennifer have started three works in Northern Nicaragua. The "Project Epicenter" is their vision to plant at least 20 churches in Northern Nicaragua! Our church is excited to partner with Max & Jennifer in the coming years as they lift up the name of Jesus in Nicaragua! If you would like to send support to their ministry just click on the picture and give online.
Wednesday Nights @ ISFBC
Back to School means back to our Wednesday night schedule....with a twist!! This semester we will be starting "Man Church" which will meet in our fellowship hall and our ladies will meet in our Music room for prayer and bible study. Our Students will continue to meet in the Youth Building and our children will gather as well! There is literally something for everyone here at ISFBC on Wednesday nights. We encourage you to come grow in Christ with us!
LifeGroups are important because they provide opportunities for individuals to fellowship, serve, and grow in their faith with like-minded individuals. These groups offer a sense of belonging, support, and accountability. Members can share their struggles and receive encouragement, wisdom, and prayer. They can also participate in various activities such as Bible studies, social events, and outreach programs. Church community groups also play a vital role in nurturing spiritual growth and development as members learn from one another, are challenged to live out their faith, and seek to serve others. We encourage you to join a LifeGroup today!
See You at the Pole™, the global day of student prayer, began in 1990 as a grass roots movement with ten students praying at their school. Decades later, millions pray on their campuses on the fourth Wednesday in September. This year our church will host a "Post-Pole" Rally and we are inviting all area churches to participate! We've invited a worship band and speaker to come and join us as we celebrate all that God is and will do on our school campuses this year. Please continue to pray for our students, teachers and administrators this school year. Pray for those who are followers of Christ as they strive to be a light in a dark world.